Design and build of an interactive cross platform communication tool
For some of our clients, getting to their customers is somewhat difficult. This can be down to geographical location, customer structure complexity, the nature of the team members who need the information or even just the time available in diaries. For ABB's Turbocharging Division, this situation is not just irritating but can lead to a poor customer experience of their products and, in some instances, could lead to a life threatening situation; something that is simply unacceptable. So what could we do to help?
Well, this is where our software teams came in. Through the advances our technical team had made in developing solutions using Microsoft's HoloLens technology and gaming platforms, they were able to build realistic virtual reality replicas of the ABB equipment, with 3D visibility. Yes, that's right, we use gaming platforms, so that we can create a truly immersive experience. This, in turn, allowed our creative teams to develop what is now regarded as a landmark ABB interactive site!
Even our software teams were amazed at the result, especially when you consider that just 10 years ago, creating such experiences would have required huge amounts of resource and cost over ten times the budget that we used. It even works as an App and can be displayed on a 96 inch screen!
Below are images of the App in action.
We gave users access hotspots – creating blended learning that felt fresh, relevant, and slick. you can visit it for yourself at the above URL.
The above video gives a walkaround of the site as displayed on a tablet.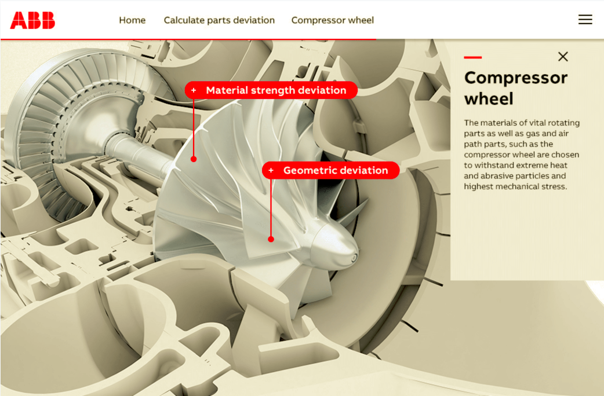 We wanted to know more about what they did, so we asked them to explain. This was their response:
"This is one of ABB's landmark interactive sites, also available as an app. We really pushed the boundaries of optimisation on this site, harnessing WebGL, converted over from our Unity engined Augmented reality project, to deliver a high vector interactive model, with stylish animations and smooth transitions. The resolution needed to be high so that it could be displayed on a 96 inch touch screen in addition to traditional platforms.
The solution is fully responsive and one code base is responsible for all platforms."
Excellent… so now we know. If you have any questions, you are welcome to talk to them yourselves.